About RainSoul -

Ingredients | Science

First Supplement Of Its Kind >>> SOUL PURE WELLNESS

Soul is a delicious Seed-Based Blend, packed with Antioxidants, Anti-Aging, and Anti-Inflammatory Benefits.

With the creation of Soul, a new health category was introduced: seed-based nutrition. Along with the creation of this new category, combinations of health benefits became available that were never conceived before. Our seed-based supplements are potent, natural sources of nutrition that don't include the potentially harmful or useless fillers that are found in pills, capsules, extracts, oils, etc.

Ingredients:
Soul features the synergistic blend of the black cumin, black raspberry, and chardonnay grape seed.
These seeds health benefits have been studied extensively and have been found to be so effective that their compounds are used as natural medicines in Europe.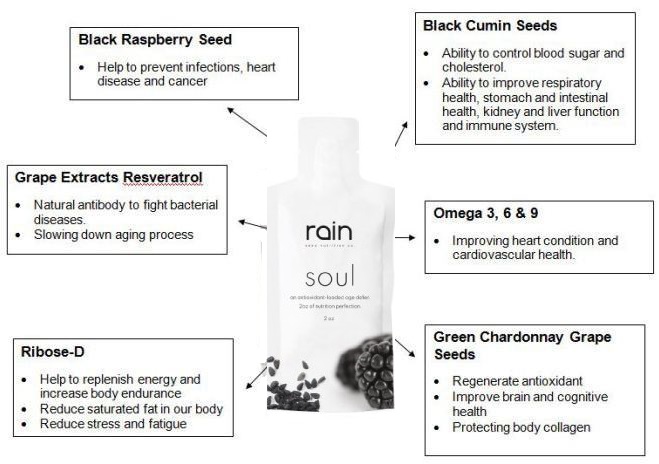 We Use A Unique Cold-Press Process To Carefully Preserve Each Seed's Life-Giving Nutrients.
NON-GMO

Rainís ingredients are non-genetically modified organisms. This means that their DNA hasnít been altered in a lab to include pesticides or other harmful additives. Our nutrition is pure and completely natural, just as nature intended.
BRUNSWICK GOLD CERTIFIED

Brunswick Labs, an independent, bioanalytical laboratory serving the nutraceutical, food, pharmaceutical and cosmetic industries, has found Soul to be an effective nutritional supplement that supplies powerful antioxidants and promotes health. Soulís formula provides a synergistic blend of omega-3s and -6s and D-ribose.
Third Party Cell Based Assays

Cell-Based Trials are Analytical Tests, which use cells cultivated in a Lab. They provide two primary types of information.
First, they reveal how much of a particular substance is absorbed into a cell. Second, they measure the performance of the substance in relation to a specific outcome, such as the reduction of oxidative damage or inflammation.

Rain International has tested Soul with cell-based trials which measure these primary cellular mechanisms: Anti-inflammatory, Anti-aging, and antioxidant.

---

---